Saltwater Fishing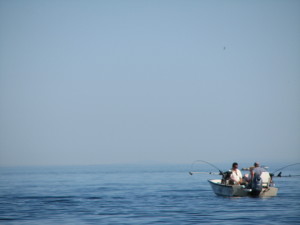 From June to mid September, I am the Head Guide at Painter's Lodge in Campbell River.  I guide guests to Pacific Salmon three tides a day in the busiest weeks.  In August my focus turns to the Tyee Pool where I row guest in pursuit of a membership in the Tyee Club of BC.
There are lots of good reasons to fish here.
The catch is consistent.  Campbell River is on the southern migration route for all 5 major species of Pacific Salmon and data from the Department of Fisheries and Ocean consistently shows that anglers catch fish here.
The waters are protected.  Campbell River is on the inside passage which means it is sheltered from big ocean conditions.  All fishing is in sight of land and most days the water is calm.
The scenery is spectacular.  The view from Campbell River over the strait to the mainland is speckled with islands and wildlife.  Eagles, sea lions and whales are not uncommon.
The accommodation is world class.  Our fishing lodges, Painter's Lodge, and April Point across the channel, offer lovely rooms with gorgeous views.  Eat in the pub or step it up in the Painter's dining room or head to April Point on our water taxi for a different menu.
The boats are perfect for the place and the guides are experts.  Many of our guides have fished these waters their entire lives.  You can fish from a Boston Whaler, an Outrage, or a covered cruiser.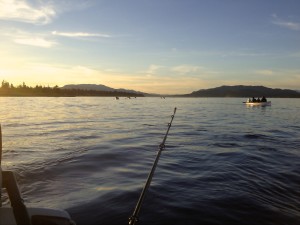 Call Painter's reservations and request me as your guide.  If I'm not available on your dates, I am confident my guide staff will give you a great fishing experience.
1-800-663-7090