Cowichan River – Fly and Gear Fisherman's Paradise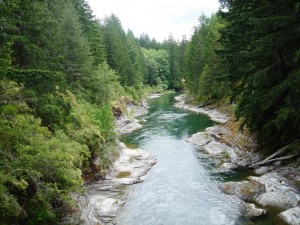 The famous and beautiful Cowichan River is a fly fisherman's paradise.  The Cowichan River starts from the town of Lake Cowichan and flows dozens of miles to the city of Duncan, making it one of Vancouver Island's largest rivers.  It is full of brown and rainbow trout, salmon and steelhead just waiting to take your fly or lure.  This is one of Vancouver Island's first class rivers, and has been designated as a national heritage river.
We offer drift boat guide service on the Cowichan River all year. Mid December to the end of April we are mainly targeting the wild steelhead in the lower river with gear or fly.  The Cowichan River is famous for large, wild steelhead and every year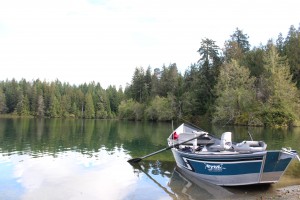 we hook-up with some monsters! January through April is an awesome time of the year to fish the Cowichan River as you can target both trout and steelhead during the same drift.  The steelheading and trout fishing on the Cowichan River is one of the best fisheries in North America.
Fly fishing for trout in the Upper Cowichan river is epic, in my personal experience there is not a better river for fly fishing trout on the planet.  The best wet fly fishing for trout is November thru March while the salmon and steelhead are spawning, hundreds of hungry Cuttie, Browns and Rainbows drop down from the lake and feed on the eggs.  During the Mayfly and Stonefly hatch (April thru June) it is not uncommon to have 20+ Rainbows and Brown trout come up and take your dry fly. Truely an awesome fishery.  Summer fly fishing is great with less places for the big Brown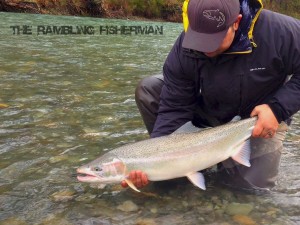 trout to hide in the lower water it makes targeting them even easier.  There is not a bad time of the year to fish the Cowichan River!
My guide days book up early in the year for this very popular fishery, so please book early.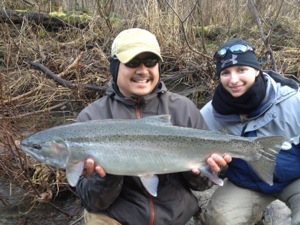 Book now to reserve your day! $425/day for 2 anglers.
Please Contact us for more information:
mustardfishing@gmail.com
250-203-7564  or Click Here
All accommodation, alcohol, food, taxes and gratuities are not included in the price unless specifically stated.
Please note: A valid credit card is required at the time of booking, to hold your day. Any cancellations prior to 30 days before the charter all deposits will be returned, any cancellations within 30 to 15  days before the charter will result in a $100 cancellation fee.  Cancellations within 14 days of the start time of the day of fishing will result in full payment of the charter plus tax which will be applied to your credit card.  We reserve the right to cancel any charter without notice and all deposits will be refunded immediately due to weather conditions or any other unforeseen reason. 
We accept Visa, MasterCard, and Cash
Contact: