I know first hand what its like to go prawning with high expectations only to come home with less than I had expected! So today,  I went and asked the pro's at Tyee Marine for some 'tips' on increasing the catch in my prawn traps and this is what they said:
Here's some great advice to those of you that are going to be Prawning on Vancouver Island:
While the learning curve on the way to becoming a sucessful prawner is not especially steep, there are little tricks that experienced prawners have discovered along the way that help them achieve consistent results.
One of the most important things that can be done to improve prawn catches is to minimize trap movement. Prawns will not enter a trap if it is moving around too much.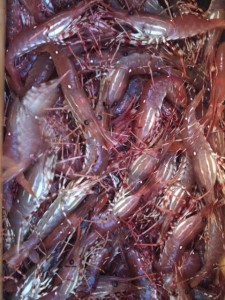 With a typical set, the line fastened to the traps and float is often jerked up and down by waves lifting the scotsman float up and down, causing the traps on the bottom to be pulled around. To alleviate this problem, tie a knot or loop in the line about 20 – 30 feet ahead of the traps. Once your set is made, slide a 5 lb weight down the line. The weight will slide down to the knot, and instead of the traps being bounced around, the weight is lifted off the bottom and plunked back down instead.  This simple method of isolating the traps from the movement of the scotsman can really improve prawning success.
Some other tips: use good quality bait. the more oily and fishy a bait smells, the better it will work. do not use rotten chicken or any other rotten meat. While some prawners do this, don't forget you are going to eat those prawns that just ate your rotten bait! Carlyle Just Tuna is THE best tinned bait, mix it with Ace of Baits pellets and Prawn scent. A 4 hr soak is plenty of time, if your traps don't fill up in 4 hrs, move.
Set in an area of moderate tidal flow for best results.
(Ian adds – "Tyee marine has been awesome to deal with over the years and I have nothing to say but great things about their customer service.")
Advice by,
Murray Whelan
Tyee Marine – For all your recreational needs.

Campbell River
880 Island Highway, Campbell River, B.C., Canada, V9W 2C3
Phone: (250)
287-2641
Toll free: 1-877-287-8933
Fax: (250) 287-7701
Courtenay
870 Cliffe Avenue,
Courtenay, B.C., Canada,
Phone: (250) 334-2942
Fax: (250) 334-2948


Category: BC, how to, Prawn Fishing, prawning, Prawning gear, Saltwater Fishing Report, Uncategorized